The Courses at Pine View Golf Club
The Hemlock Course plays up to 6409 yards, par 72 with a slope of 121. The Spruce Course plays up to 6727 yards, par 72 with a slope of 122. Both courses are always in excellent condition with watered fairways and excellent greens. Many say our greens are "the best in the area." Both courses are challenging, yet enjoyable to play. It's refreshing to play our golf courses where par is still a good score, yet there are opportunities to make some birdies. Pine View's Professional staff is dedicated to making your visit enjoyable and fun, providing you with a quality golfing experience and a friendly atmosphere.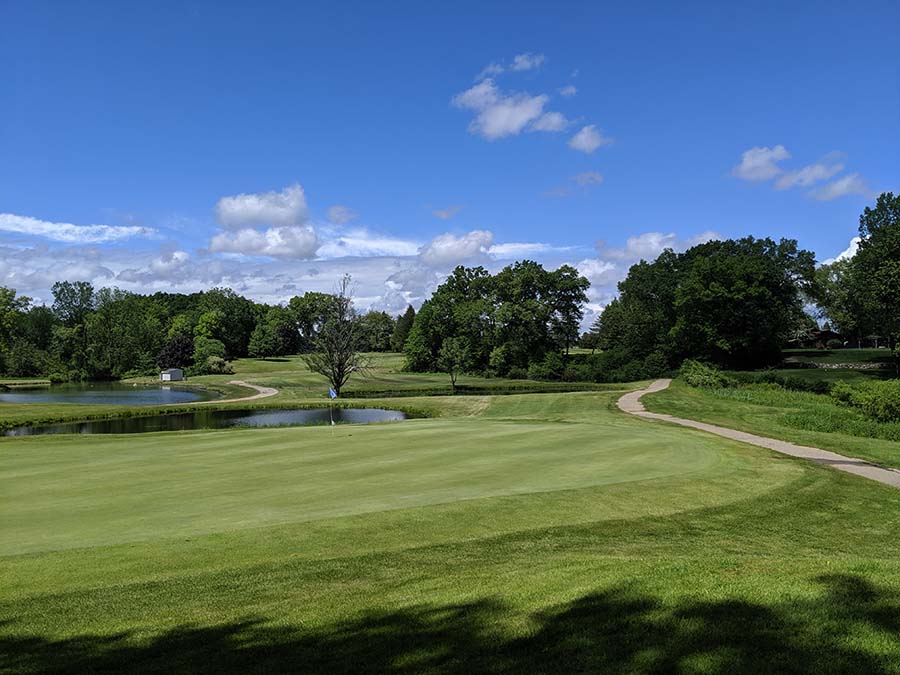 The Hemlock Course
The Hemlock Course is probably the most popular of the two courses, described as lined with trees and gently rolling. While the scorecard may reflect a layout that seems forgiving, it is extremely important to play smart shots and stay in the fairway. The greens are large and the breaks are subtle, so you must be careful with your putting. Hemlock is a favorite of the seniors and women because most of the greens are reachable in regulation. The signature hole is #18; a par 3 that requires you to carry the river and a pond. If you really want to challenge yourself, play #18 from the back tee which plays to a more difficult angle with an elevated teeing ground…it's a great par 3. 
The Spruce Course
The Spruce Course holds its own against any golfer! Start out with a 440 yard par 4, then proceed to #2, a 202 yard par 3. The front is long and strong. The back starts out tight with water, then progresses to long and strong. When you make the turn, you'll have to navigate "Alligator Alley" where you'll deal with rivers and ponds. The signature hole is #13, a dogleg right that requires a tee shot over the river from an elevated teeing ground. Your approach shot will require a carry over a large pond to a well-guarded green. All you have to do is hit it straight (easy enough, right?). There are also two par 5's over 600 yards. If you want a tougher test of golf, the Spruce Course is the one you want!